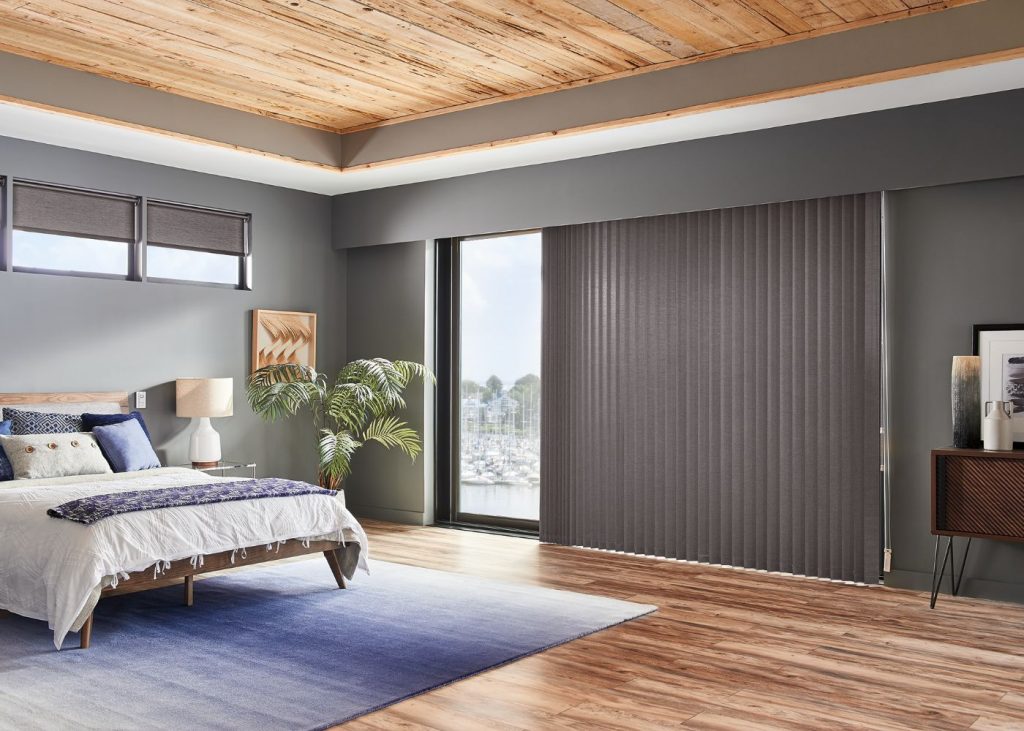 You love the style and convenience of your sliding glass doors, but as you think about window treatments, you may feel a little stuck.
Let's explore a few options for these unique windows, keeping in mind your home's design aesthetic and how you use the space.
VERTICAL BLINDS
The most popular window treatment to grace sliding glass doors is vertical blinds. You can make them your own with your choice of color and material, whether wood, fabric, or the classic vinyl. They can cover wide windows as well.
HERE'S A TIP
For the most impressive statement, make sure the vertical blind vanes travel to the floor.
SLIDING PANELS

A contemporary alternative, sliding panels add character to any sliding glass door. Look for them in an array of shade fabrics—including solar, roller, natural, and Fresco® Roman—to easily match other window treatments in your room. They're also cordless and easy to clean, which makes them perfect for spaces where kids and pets spend time.
VERTICAL CELLULAR SHADES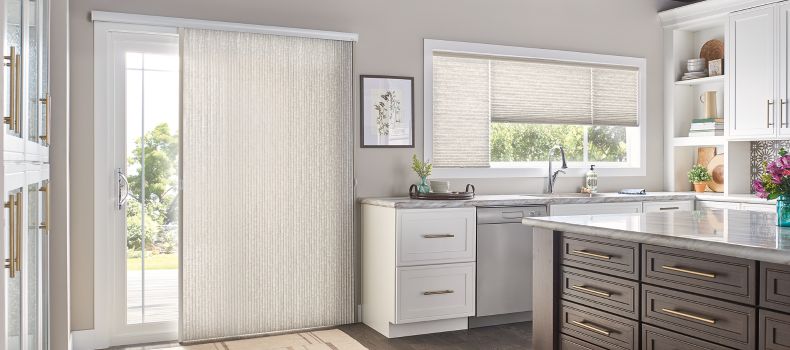 Graber Slide-Vue™ Vertical Cellular Shades offer high-performance energy savings for your patio doors and wide windows. If you love the look, you can employ the same vertical shades as room dividers or for closet openings. The advantages to cellular include:
Energy Savings:
Cellular shades are by far the most energy-efficient window treatment. Their honeycomb-shaped cells trap air and help insulate your home, which is especially nice when you're covering a large area like a sliding glass door.
On-Trend Palette:
Graber Slide-Vue Vertical Cellular Shades are available in tons of colors that are carefully curated—from whites and other neutrals to rich grays and blacks to intriguing blues, greens, and reds—allowing you to increase or decrease the visual emphasis, as desired.
Achieve a Cohesive Look:
Open concept homes are all the rage but there is a trick to styling the connected kitchen-dining room-living space: Coordinate the color palette. Cellular shades allow you to match fabric and change up the opacity level of that fabric—from light filtering to blackout—depending on your room's purpose.
Designed for Everyday Use:
People often choose vertical blinds for their durability. But you'll be pleased to know that Graber Slide-Vue Shades are also built to hold up to daily use. That's because they are created with premium fabrics that are soft yet strong.
Wide Windows? No Problem!
Because these cellular shades are available in widths up to 192″, Slide-Vue shades fit the bill—and the wide window.
DRAPERY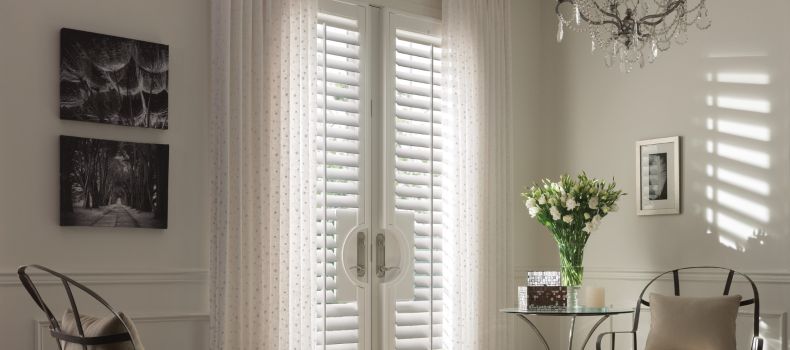 There's something about the flow and formality of custom drapes that gives a room extra presence. Select a pattern or color that reflects your style and complements your room. Better than ready-made curtain panels, Graber Drapery feature fine details like mitered corners with corner weights for better drape, double-turned hems for years of elegant performance, and pattern-matched seams for the most high-end appearance.
HERE'S A TIP
Dress your windows to the nines by layering drapery over blinds or shades. This technique also increases insulation at the window.
NATURAL DRAPES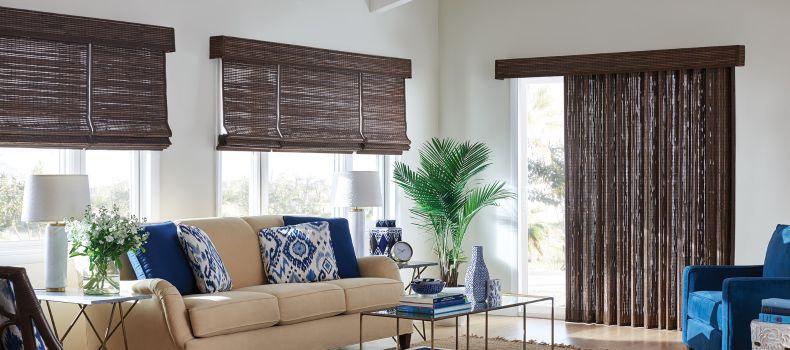 To add texture to your space, introduce an outdoor element and choose drapery crafted from natural materials like bamboo, jute, grass, and woven wood. They're environmentally friendly, uniquely individual, and they pair nicely with Graber Natural Shades.
SHUTTERS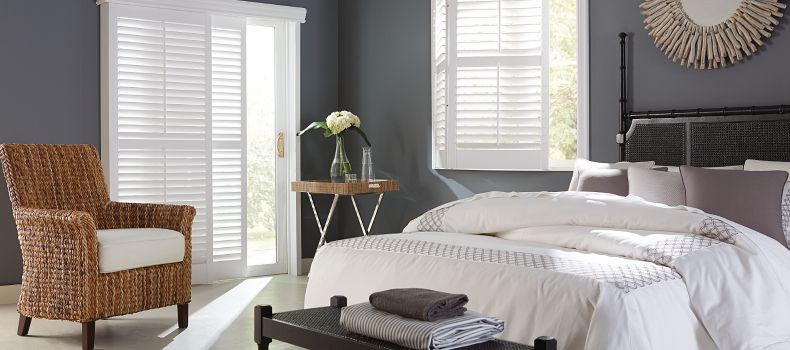 For a high-end option, consider shutters for your sliding glass doors. Stunning and durable, shutters can lean traditional or modern, depending on your choice of material (wood or composite), as well as your stain or paint selection. Shutters are well worth the investment—in fact, they can even add to your home's value.