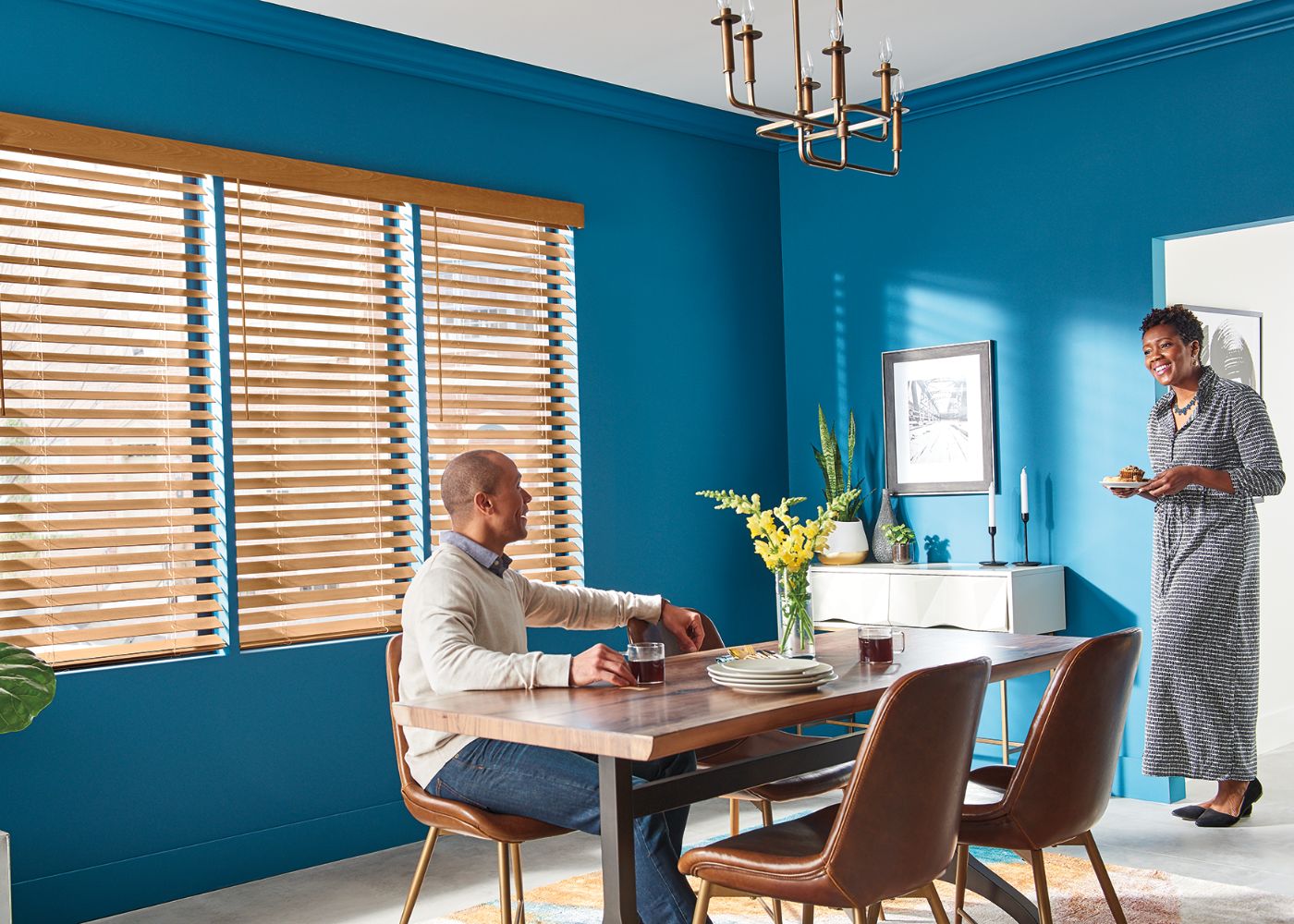 Choosing the right window treatment to complement your interiors can be overwhelming. But when you consider a few important factors, you're sure to find the solution that's best for you.
CONSIDER THE PURPOSE OF THE ROOM
By taking a fresh look at your space and the way you use it, you can identify the best design style for your window treatments.
A spacious room used for entertaining can be elevated with uniquely patterned drapery. Enhance the elegance by layering the drape over a blind, shade, or shutter.
Simple yet sophisticated, Roman shades may be just the right look for your home office.
A more contemplative room might welcome a view to the outdoors. Bottom up/top down shades may do the trick, while still allowing for privacy.
Because bathrooms have a higher humidity level, consider blinds made of faux wood or a composite material—both of which withstand moisture.
Natural shade materials bring the outdoors in, adding a textural element to a room that is a showpiece in your home. Similarly, wood shutters give a room true distinction—whether your style is traditional or modern or something in between.
Your patio door may require a vertical solution, like vinyl vertical shades or sliding panels. For even more style, Graber Slide-Vue Shades are a cellular fabric hung vertically, which allows you to match your vertical and horizontal shades to each other.
FUNCTION IS JUST AS IMPORTANT AS STYLE
You'll find that we offers solutions for everything from lightblocking to energy efficiency to moisture resistance. We even offer options that are safer for homes with children and pets. Consider your room's needs and we'll help you find the appropriate solution. Review the chart below to narrow your choices.
LEVELS OF PRIVACY
Indigo Blinds offers a complete range of privacy levels, from light filtering sheer shades that allow a view to the outdoors to blackout shades that are perfect for bedrooms and bathrooms. When you consider privacy, you help bring more comfort to your home.
CHECK EXPOSURE TO THE ELEMENTS
Exposure to sunlight or heat/cold can cause uncomfortable temperature fluctuation, as well as damage to textiles, flooring, and furniture. Windows facing south or west can suffer the most. High humidity rooms require special consideration as well. That's why Indigo Blinds offers a variety of solutions that ensure your room is not only stylish, but it's also safeguarded:
UV protection
Insulation against heat and cold
Fade-resistant
Moisture-resistant
SAFETY FIRST
There's no need to sacrifice safety for style. Indigo Blinds offers options that are safer for homes with kids and pets, including cordless lift control. With motorized treatments, you enjoy total control at the touch of a button, and you also increase safety in your home by eliminating cords at your windows.